Feeling hungry but want to eat something that gives you a taste like restaurant food? But how can one get homemade food, which tastes like a restaurant one? Is it something to really ponder about? Well, there is no need to think too much about it.
Here I have come with many different recipes of smoked and grilled food that taste delicious. These recipes will surely inspire you and will make you a basic master chef. Now you can try yummy recipes at home, which will provide you with a sentiment of restaurant experience.
If you have got a pellet smoker for yourself then you can surely learn award-winning recipes and can throw a luscious food party. With the help of the pellet grill, you can cook varieties of mouthwatering, flavored, and soft meat recipes.
Well, if you are a vegetarian and thinking about what you can cook on a pellet grill, then read this article fully and grab the amazing recipes of your own choices. The pellet grills are versatile in nature and cook varieties of recipes of different styles and in different ways.
Best Recipes for Your Pellet Grill and Smoker
1. Pellet Grill Smokehouse Burger
The first recipe that I am going to share with you guys is the pellet grill smokehouse burger. The juicy, tender, and messy burger. Wow! My mouth watered. This is a recipe that everyone can make at their home effortlessly and it will surely be loved by all and sundry.
Ingredients
Hardwood pellet
Beef/chicken
Cheddar cheese slice
Onion salt (2 teaspoons)
Dijon mustard (¼ cup)
Soy sauce (1 tablespoon)
Worcestershire (1 tablespoon)
Mayonnaise (¾ cup)
Paprika (1 tablespoon)
Unsalted butter (¼ cups)
Garlic powder
Black pepper
Ketchup (6 tablespoons)
Red onion (medium size)
Steps
Preheat the pellet grill by setting its temperature to 415 degrees F. Close the lid so that the heat regulates throughout the pellet.
On the other hand, take a large bowl and put beef in it. Add onion powder, black pepper, paprika, garlic powder, mustard, and salt to the bowl. Mix and make patties of this.
Once the pellet is heated, grill the bacon. Place the bacon one by one on the cooking area of the pellet. Close the lid so that it cooks it well and make it crispy. Remove the lid after 25-30 minutes when all the fat of bacon is rendered.
Remove the bacon and melt butter into the skillet of the grill. Add Worcestershire and soy sauce in the butter and mix it well. On the other side, add onions and patties to the skillet. Put everything separately and close the lid. Let it grill for 130-135 degrees F for about 10 minutes, where ½ minutes grill for each side. Put the cheese slide on the patty and let it grill until it melts. Also, place the buns on the grill and toast them.
After grilling, spread ketchup and mayonnaise on each bun and place patties, bacon, and onions into it. And you are done!
2. Pellet Grill Tahini Chicken
Another mouthwatering recipe is Tahini chicken, which is delicious and most demanding. When it is grilled or smoked, it adds extra flavor to your food. Grilling makes it yummier and finger-licking. Follow the recipe and make it at home and enjoy the flavor by serving it with salad or a fresh drink.
Ingredients
Tahini (⅓ cup)
Honey (1 tablespoon)
Soy sauce (3 tablespoons)
Fresh ginger
Salt
Medium size garlic
Sesame oil (2 tablespoons)
Grated orange zest (⅓ cups)
Chicken breast
Steps
Take a bowl and put tahini in it, and add honey, salt, soya sauce, garlic, orange zest, ginger, sesame oil, and orange juice. Mix it well and add chicken to it. Put it in a plastic bag and freeze it so that it marinades for at least hours or a day.
Heat the pellet at a temperature of about 450 degrees F, which is best for grilling. Close the lid so that it preheats for almost 15 minutes.
On the other side, remove the chicken from the marinade and put it on a grill. Close the lid and let it grill for almost 10 minutes, where 5 minutes on each side. For the thickest part, let it grill for more than 10 minutes, like for 20 minutes. After grilling, remove it and cover it with the aluminum foil and let it rest for a few minutes and then start eating it!
3. Summer Vegetables with Buratta
The vegetables with burrata are the best summer dish that one can make. It goes well for the ones who love veggies and grilling them, and it enhances their flavor. You can serve this dish with fried rice and grains. Also, you can use chicken and fish along with it.
Ingredients
Vinegar (½ cup)
Honey (1 tablespoon)
Shallot (chopped)
Olive oil (1 cup)
Mustard (1 ½ tablespoon)
All vegetables of your choice (eggplant, zucchini, and yellow squash)
Burrata cheese (8 ounces)
Cherry tomatoes
Salt
Mushrooms
Basil leaves (fresh)
Steps
Set the temperature (450 degrees F) and close the lid to preheat it.
Take a large bowl and add mushroom, shallot, mustard, honey, and olive oil into it.
Take the lemon juice and mix it with vinegar and oil to prepare the vinaigrette. Add veggies (eggplant, yellow squash, and zucchini) in vinaigrette. Mix it and place it into the grill and close the grill so that it grills well. Grill each size for 4 to 5 minutes.
Take tomatoes and add ¼ cup of vinaigrette to it. Put it in the grill, close it and let it grill until its skin bursts and its juice begins to release. It hardly takes 15 minutes.
Place the grilled vegetable mixture on the platter and add tomatoes on top of it. Also, top the basil leaves on it before serving.
4. Grilled Smoked Brisket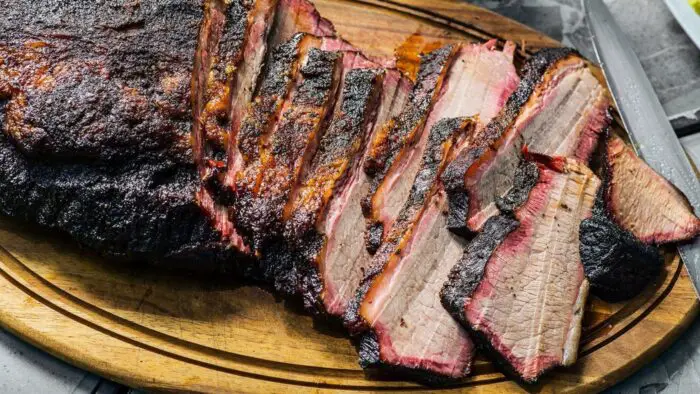 Pellet grilled smoked brisket is a flavorful beef, which is succulent and delicious. If it grills perfectly it provides an amazing flavor. It can be served with cheese, collards, potato salad, white bread, BBQ sauce, coleslaw, and pickles.
Ingredients
Chilli powder (3 tablespoons)
Salt (as required)
Coriander (1 ½ tablespoon)
Garlic powder (3 tablespoons)
Cut beef brisket
Black pepper
Water in a spray bottle
Steps
Sprinkle the salt on the brisket and put it for almost a day, uncovered.
Take chilli powder, black pepper, coriander, and garlic powder in a bowl and stir it well. After mixing, rub it all over the brisket.
Set the grill on preheat at a temperature of about 450 degrees F and let it heat for 10-15 minutes.
After preheating, put the brisket in the pellet and close the lid. Let the brisket grill for almost 5 to 6 hours until it fully cooks. Spray the water so that it cooks quickly and speedily.
Once it is grilled, dish it out and cut it into thick slices, and now it is ready to serve.
5. Smoked Turkey with Montreal Seasoning
Grilled smoked Turkey with Montreal seasoning is so soft because it is gently cooked. It is made up of the chest piece (bird), basically the breast part. You can serve it with a sauce and drink of your own choice. It is a slice of tender meat that brings a mouthwatering effect when being served.
Ingredients
Olive oil (2 tablespoons)
Black pepper
Salt
Smashed garlic cloves (5)
Dried drill ( 2 tablespoons)
Coriander seeds ( 1 ½ teaspoon)
Turkish breast
Fresh thyme chopped (2 teaspoons)
Unsalted melted butter (¼ cups)
Fresh chopped rosemary (2 teaspoons)
Chopped shallot ( ¼ cups)
Steps
Make a paste of salt, coriander, pepper, garlic, olive oil, shallot, and dill by putting them in a food processor for 30 seconds.
Dry the pat Turkey with the towel, and place it on a baking sheet. Loose the skin by inserting fingers into it and gently starts pushing it. Rub the spice paste that you have already made on the loosened breast skin. Paste some of the spice on the outside area of the breast. Freeze it (uncovered) for almost 8 to 12 hours.
Preheat the pellet grill and smoker at a temperature of about 225 degrees F by closing the lid.
Let the Turkish breast stand at average temperature as the grill is preheating. Meanwhile, stir thyme, rosemary, and butter together in a bowl. After that, place the Turkey breast in the grill and close its lid and let it grill for almost 45 minutes. And you are done!
FAQs
What is the best thing to smoke on a pellet grill?
Pellet grills make varieties of foods. It depends on you what kind of food you are making and how much you are an expert at it. The best thing to smoke is the tahini chicken and the beef roasting.
How do you cook burgers on a pellet grill?
Yes, you can cook the burgers on a pellet grill. Follow the recipe and make your own grilled burger at home.
What do you spray the meat with when smoking?
Water spray should be used to spray the meat while smoking it. Also, you can spray vinegar, lemon juice, and apple cider.
Conclusion
Having a pellet grill and smoker at your home makes your life easy. You can throw a party and enjoy every little moment by grilling chicken, fish, veggies, and many other things on a pellet grill. It makes your life easy once you learn what kind of recipes one can cook in it.
A single pellet grill cooks different sorts of recipes that will surely meet the recipes of a 5-star hotel. Now grab a pencil and a paper and note down the recipes of your preference.