Eating ribs, particularly pork ribs, is extremely healthy as it is a rich source of vitamins and contains the following minerals: thiamine, zinc, iron, selenium, phosphorus, and niacin. All these minerals and vitamins, especially thiamine, play an essential part in proper body functioning. Besides these health benefits, ribs have a rich taste too, but only if they're rightly cooked. Don't fret! You'll also cook juicy pork-like ribs at home, and I'll tell you how!
There are several methods of cooking that are adopted by chefs, like on stove, oven, or grill, but nothing can beat the taste of ribs cooked on grills. The most convenient and efficient way to cook ribs. Home grills not only offer convenience and portability but also possess efficiency and bring a mouth-watering taste to your ribs at a low cost. Getting a grill might be an easy task but cooking ribs perfectly on it is undoubtedly not! No underestimation, stay here; I'll guide you on how to cook ribs on the grill here.
How to Cook Ribs
There are many ways to cook ribs, and I don't believe in simply adopting one. If you want to cook ribs of your choice, you have to understand the preparation requirements, ingredients, and everything and then develop it as per your taste. Mainly, there are three cooking ribs on the grill: Back ribs, Side ribs, and country-style ribs.
Back ribs are very popular and also called baby-backs. These ribs are sectioned from the spine along the lion's back. The reason for their publicity is "taste." The back ribs are tender with small bones which have a maximum portion of meat.
For this reason, the baby-backs are also the priciest among all. The side ribs section starts from the tip of baby-back ribs and ends at the sternum of the loin. These ribs are affordable because there is a less tender portion on them. You can also call side ribs bony ribs. However, these ribs are also flavorful.
Then comes country-style ribs on which I grew up! These rims are somehow similar to bone-in ribs roast. However, they are in sliced form and contain a high section of white meat. The best thing about country-style ribs is that they tend to be significantly grilled and could become tastier after braising.
Ingredients
The following ingredients are for eight-serving. You can adjust the quantities according to your serving. So, to cook the ribs on the grill, you'll need 2 ½ tablespoons of kosher salt, a tablespoon of dry mustard, a tablespoon of paprika, half teaspoon of cayenne pepper, half teaspoon of black pepper, eight pounds back ribs (eight racks) or Spare Ribs—St. Louis style (four racks). I also add chicken broth and 1 ½ cup of homemade BBQ sauce in the recipe, but that's optional.
Preparation Method
You can cook grills directly on the grill as well as after preheating. But before you have to follow this procedure: Combine the given ingredients in a small bowl and mix well. Please don't add constituents directly to the ribs because it will lead to uneven taste. Once you provide an excellent mix of all spices, move on to the ribs. Place the ribs onto the aluminum foil (must be double-layered) and start rubbing them with a prepared mixture of ingredients. Make sure to wrap the ribs perfectly.
Grilling Uncooked Ribs
After foiling the ribs, it's time to grill them! In this preparation method, there is no need to cook ribs before grilling them. It is super easy and delicious. In the first step, please prepare the grill. Unlike ovens, there is no preheating; ribs will be cooked directly over medium heat, i.e., 250-to-350-degree Fahrenheit. The preparation of the grill includes its setup because most of the home grills are foldable, so it will be great if you prepare it before grilling.
Indirect heating is preferable to get the best results because direct heat will burn out the sauce, so please don't try that. Remember, "SLOW COOKING" is the primary key here. You have to adjust the temperature and indirectly cook the ribs with patience. Flip the pieces after every 20 or 30 minutes, and baste the ribs with BBQ sauce on every flip. To check the doneness, you have to insert the knife in between ribs; they're done if there is no resistance faced.
Pre Cooking And Grilling Ribs
Preheat your oven to 300 degrees and place the foiled ribs on the baking sheets. Bake the ribs to the tender point, not until it tumbling apart. For baking, baby back ribs took almost two hours, while spare ribs took three hours. However, the timing might fluctuate with the oven's condition or statistics.
Once it's done, unwrap the ribs very carefully. Please don't waste the parted juice; store it in a heatproof measuring cup for later use. Now let the ribs cool down completely; you can use these baked rubs for grilling up to three days ahead. Now re-wrap the ribs for a grilling session!
If you have a charcoal grill, then build a medium fire in it, or for a gas grill, the high flame is suggested. Add broth or water to the stored rib juices, whisk the BBQ sauce to make a blend texture. Now grill the sauce basted ribs for seven to ten minutes. Once it gets done, transfer the ribs on the cutting board and cut them in a restaurant-style. Transfer the separated (cut) ribs to the platter and serve with BBQ sauce.
FAQs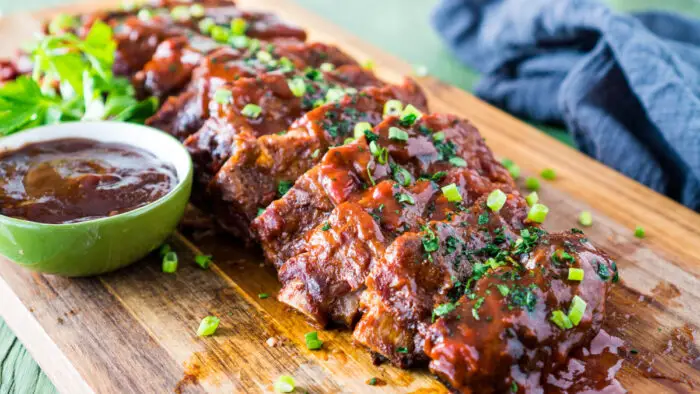 How long does it take to cook ribs on the grill?
Well, that depends on certain things: the heat of the grill, grill's condition, technicalities, etc. In a few words, ribs will take approximately two hours to cook properly. Please don't forget to check the tender with a knife or fork. Plus, if you have pre-cooked the rib, then it will take no more than ten minutes.
Do I need to flip ribs on the grill?
Yes! Flipping is necessary for evenly cooking. One rack of baby-back ribs took almost two hours to cook with a closed lid, so you should flip them after every 25 minutes. Don't forget to baste the ribs with the barbecue sauce in each flip.
What temperature should you grill ribs?
It would help if you grilled ribs at 250 degrees Fahrenheit on a smoker, gas grill, or charcoal grill. This is the ideal temperature to cook grills evenly in two to three hours. However, if you have preheated the ribs in the oven, cook ribs on a grill at a maximum 450-degree temperature for only ten minutes.
Final Words
Deliciously cooked ribs on a home grill are something which can't be explained in words! You'll understand if you have spent thousands of dollars on different restaurants to fulfill the rib cravings. Luckily, now I can cook better ribs at home, and you'll surely too by reading this article. Besides, I prefer the preheated version of cooking ribs because it is more juicy, soft, and can be used for days. Please don't forget to follow the methods properly to enjoy the scrumptious and luscious taste!
Bon Appetit!