Vitamix E310 Vs E320
Vitamix is a company that is privately owned and managed by the Barnard family since 1921. It mainly manufactures blenders for consumers, hospitality, and restaurants. Vitamix e310 and E320 are two of the blenders available with great features.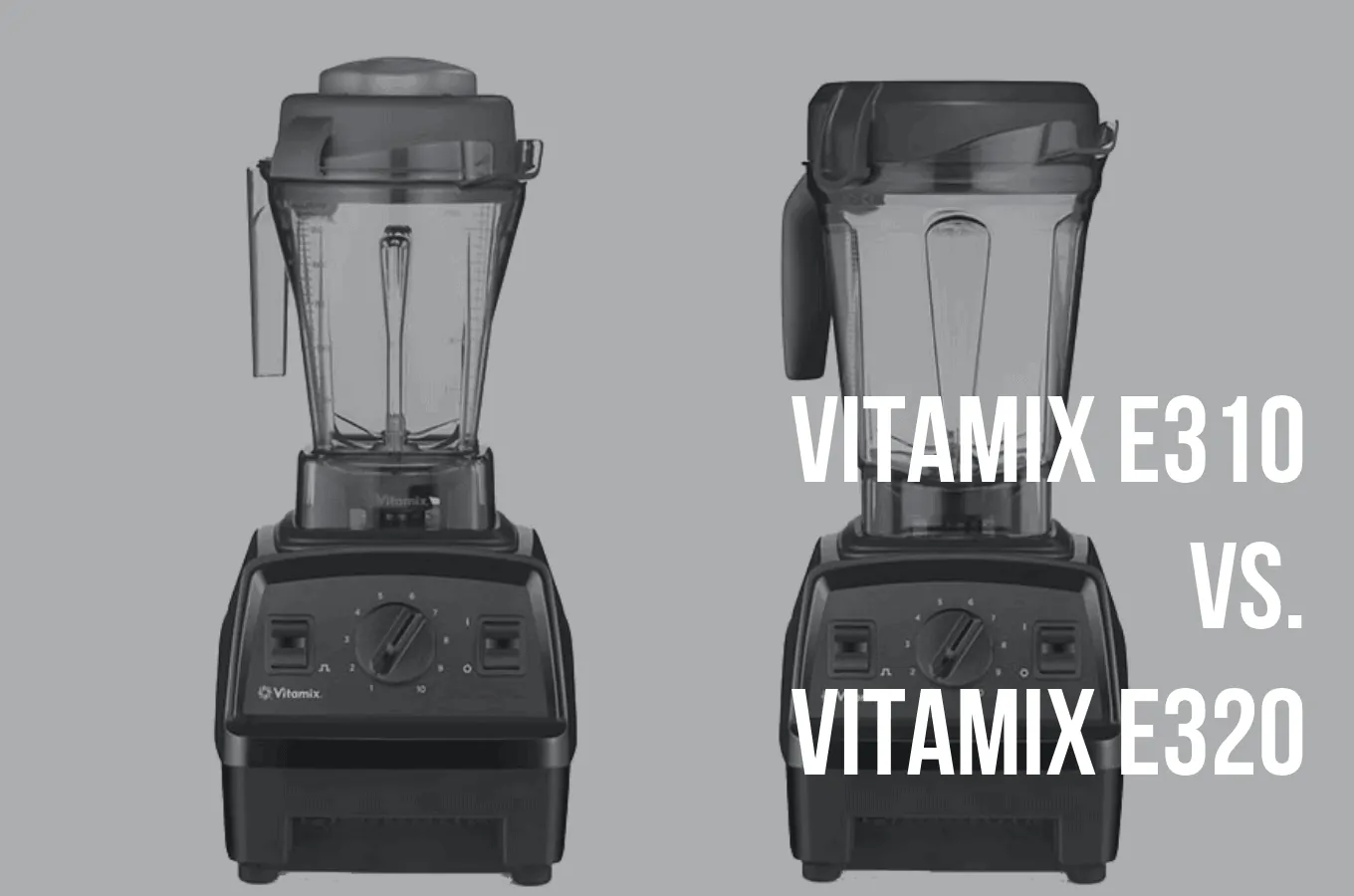 Blenders are used both in-home as well as commercial uses. They can be needed anytime in the day to day life and can be used for preparing food items.
Are you looking for the comparison guide between these two blenders? and thinking of buying one of them then it's the correct decision you are making. Nowadays it has become very difficult to choose between different products due to the large variety of substitutes available in the market. While making any decision you've to carefully compare the products to know the proper differences each one id offering and why the other one is suitable to be bought by you.
Vitamix is very promising when it comes to its products which have sporting quality craftsmanship along with great durability and without any doubts this brand can be easily found in many households. This brand manufactures high-quality blenders and we are going to review two of its products that are the E310 and E320.
What are E310 and E320?
Vitamix E310 and E320 are blenders that are manufactured by the Vitamix company to aid in home and commercial use. These are the best affordable blenders available in the market with all the required features you will be looking for.
Both of these are blenders and the latest release from Vitamix. The E310 and E320 are a part of the Vitamix series. They are mainly designed for customer satisfaction and offer great performance at a very affordable price range.
When it comes to price, these two are the least expensive products available in the whole Vitamix product range which makes them a budget option for any consumer willing to buy a blender.
Being inexpensive they offer great performance and have got significant power which is required by any blender. These are performance-oriented products and are capable as much as the high priced products like Vitamix C series 5200 model.
The quality of the build is also good and not compromised. The blades are designed with the same material used in the high priced models which makes it very strong and durable.
Just before making any comparison between these two models, let's quickly look at the individual features and the pros and cons of these two products.
Vitamix E310
The unique selling proposition of the Vitamix E310 is its price and the value and the features that it offers at such low prices with such strong build. It is a budget-oriented product with all the features that a high priced product offers of a relatively classic brand.
The Vitamix E310 offers these at the desirable rate everyone is looking for.
There are some features like the pulse feature available in this model which even the highly-priced products like flagship C-Series 5200 lack. Being low on a budget it's still very versatile.
The product is also available in different colors as per your requirement which the E320 does not have as it is only available in black.
On the other side, the performance is a little bit inconvenient and jerky and it has a smaller container which limits the efficiency of his product.
Pros
It's one of the cheapest and inexpensive Vitamix blenders available.
The pulse feature helps you to achieve consistency
It's ideal for a small amount of food.
It comes with an under cabinet storage.
There are more color options
Cons
Its motor has 10% less power than most of the other Vitamix blenders.
The container isn't ideal for a large amount of food.
Vitamix E-320
The biggest and the most attractive part of the Vitamix E20 is the powerful motor it offers. It has got a significant advantage because of the motor it offers. In comparison to the latter model, the blades are larger here which in turn helps in improving the performance.
The Vitamix E320 is better and more convenient than the previous model when it comes to performance.
Pros
Its has got a motor that is 10% more powerful than both the flagship and E310
The blades are larger (4 inches) which gives you more cutting areas.
It has both the pulse feature and also the variable speed dial.
The 64 oz container can easily hold a large amount of food at once.
Cons
Slightly more expensive as compared to E310
It lacks blending presets.
Differences between Vitamix E320 and E310
Blending performance
The motors on both units are similar in many aspects.
The Vitamix E310 comes with a 2.0 horsepower motor which is also common in the other more expensive product Vitamix 5200.
On the other hand, Vitamix E320 features a tad powerful 2.2 horsepower motor that is also common in another product that is Vitamix 750
This simply means both the unit has different motors and Vitamix E320 has a better one.
But when we talk about performance both these models can easily handle anything which is thrown at them. In comparison, the 2.0 horsepower motor is similar in results to the 2.2 horsepower motor. It's not possible to make any difference in both the motor performance despite one having 10% more power.
Blades
As it's already mentioned that the E320 comes with 10% more horsepower. The increase helps the blade as the E320 contrary to E310 has a pitcher with a wide base.
And due to the larger area, the E320 requires larger blades that are of 4 inches while the E310 has 3-inch blades. The additional horsepower is used for the blades to drive at ease.
Controls
Both these products are inexpensive and budget options that come with a small number of disadvantages and limitations that include the control system.
The products come with a simple control system like the older versions.
They have got-
on/off button
Pulse switch
Variable speed dial (10)
Speed
The control settings on both the blenders are similar and each of them comes with 10 variable speeds.
The variable speeds are critical aspects for any blender.
The ten-speed variable settings help you to create a kind of texture for your products and also gives you power and control in your hands.
Jar size
The capacity of the blending jar is one of the key differences in these two products.
In comparison with the E320, the E310 comes with a low profile 48-oz container while the E320 has got a larger one that is a 64-oz container.
The dimensions in the E310 jar are modest and are suitable for blendings of single-serve and smaller portions. It has a narrow base.
Talking about the E320, it has a larger and relatively huge jar that only fits under 18 cabinets and has got a wide base which lets you blend a large serving of at least two cups.
The bigger is always the better each jar has its capacity and strong points.
Noise
While deciding between blenders, noise always is a major consideration as nobody likes loud and disturbing noise.
Both the models create a noise above 90 decibels; it would be incorrect to say that they are not noisy.
When you use them at high speed and while blending hard foods these two products are noisy.
Similarities between E310 and E320
Both models offer great performance and results. There are similar results and also many similarities between them. Lets closely look at the similarities between the products.
Design
The design of both the blenders is identical. This is because they fall under the next generation release or rather the G- series.
The Vitamix G-series comes with an updated design, in particular, this series has a better chopping design, slightly better sound, and motor.
The updated series has a 4-inch blade in comparison to the 3-inch blade in the previous series.
When it comes to blending consumable both of them have a similar performance.
These models can make a variety of consumables.
Entry-level blenders
Both the E310 and E320 are entry-level units still they are great and incredible options for commercial use.
They in comparison with the premium products do not possess a high featured performance but do not disappoint us with the decent performance they provide us with.
Many users praise these two blenders as the best entry-level blenders available.
Budget-friendly
The pricing of both the blenders differs without any doubt but when you look at them from a broader view you'll realize that the performance they offer is preferable and convenient at such an inexpensive price.
These products provide features that other highly proceed products do not have and that too at a price that is worth enough to buy.
These two blenders are extremely affordable and you won't have to dig deep in your pockets while buying them.
Cooling systems
Both of the models have a radial cooling feature which in turn prevents overheating. They are also designed with a thermal sensor that automatically switches it off when the blender gets too hot.
If this happens and the blenders automatically turn off due to heat, you'll have to give it a 20 minutes break before turning it on again.
If you want to buy a blender than Vitamix E310 and Vitamix E320 are the best choices you've got. You can buy them and enjoy a durable and result-oriented performance.
Below mentioned are the links if you want to shop for any of these two products.
https://www.amazon.com/Vitamix-E310-Explorian-Professional-Grade-Container/dp/B0758JHZM3/ https://www.amazon.com/Vitamix-E320-Explorian-Blender-Black/dp/B077LJJK2Y/
Conclusion
Blenders are great for using at home, restaurants, and many other places. They are needed in daily life and should be available at your place as it can be needed at any time.
While buying any of the above two products you've certain features that can help you make your choice for instance, if you've red-colored aesthetic designs at your home and want the blender to match it then it directly eliminates E320 from your options as it only has black color. While if you have got a large family at your home or you regularly serve a large number of people then E320 will be the best choice to make.
If you do not want to spend an additional $20 then you'll have an option of E310.
I would recommend that both the products are almost similar and it won't make a huge difference if you buy any of them.